Is there BABOR in Singapore? [2023 edition]
Some History of BABOR...
BABOR started with a biochemist's vision. Dr. Michael Babor combined water and high-quality natural oils to create an award-winning cosmeceutical product in the kitchen of his home in Cologne, Germany. He merged the ancient practice of using skincare oils with renowned techniques of hydrotherapy. Their bi-phase cleanser laid the groundwork for countless advancements in skincare. It was revolutionary in the 1950s; today it is legendary.
BABOR has since been acquired by the Vossen family. To date, its headquarters in Aachen are still operated by a family-owned dynasty. It is one of the world's most popular skincare brands and is used worldwide by more than 100,000 beauty experts. At present, the cult brand is present in more than 70 foreign markets and is represented in salon spas, dermatology clinics, hotel chains, cruise ships and airlines.
HOW MANY COLLECTIONS ARE THERE?
With more than sixty years in the beauty industry,
BABOR Skincare
is a brand many are already familiar with. But for those new to the range, we have put together a
guide
: 
DOCTOR BABOR
Germany is known for adhering to strict protection and consistency parameters, so before they hit the beauty counter, items must tick a lot of boxes. The "Made in Germany" mark is now a sign of the highest quality, particularly in the skincare industry. Natural and highly efficient, highly active ingredients are used for these precision cosmetics, which are grown and manufactured in Germany by BABOR. DOCTOR BABOR collection is a tribute to Dr. Michael Babor and in line with his motto. Its products reflect a synergy between cosmetics and medicine. 
DOCTOR BABOR CLEANFORMANCE
Vegan. Clean. Effective. CLEAN PERFORMANCE. 98% naturally derived ingredients: Free of parabens, mineral oils, microplastics and silicones. CLEANFORMANCE blends clean beauty, plant-based ingredients and the powerful precision formulas of DOCTOR BABOR for a healthy, radiant glow.
 DOCTOR BABOR CLEANFORMANCE Collection 
DOCTOR BABOR POWER SERUM AMPOULE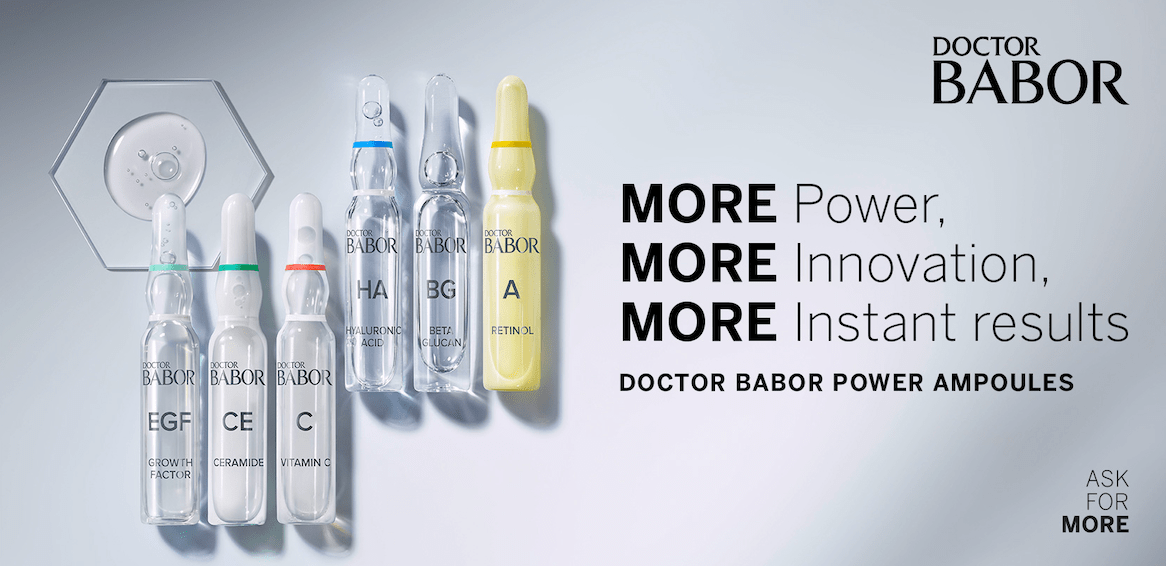 DOCTOR BABOR's world-famous BABOR ampoules as a cosmeceutical power format provide an additional active ingredient boost with immediate effect to effectively improve the skin. Dermatologically tested. Vegan. Clean formula.
DOCTOR BABOR POWER SERUM Collection
BABOR AMPOULE CONCENTRATES
The icon in the BABOR range is their ampoule concentrates. Each filigree glass ampoule contains exactly the optimal dose of an active ingredient. Even a mere 2ml of these potent active complexes deliver immediate results as they are so well absorbed into the skin. BABOR was the pioneer in engineering ampoule bottles, influenced by medical vials. The 7-day intensive treatment contains highly concentrated ingredients sealed in glass vials providing a specially protected environment. There are 18 different ampoule treatments customizable for every skin type. With BABOR AMPOULE CONCENTRATE there is something for everyone, and every skin need.
BABOR ADVENT CALENDAR
The limited edition BABOR Advent Calendar is a highly anticipated holiday product that offers 24 days of luxurious skincare and beauty products. Each day leading up to Christmas, a new surprise awaits behind a numbered door.
The BABOR Advent Calendar was first introduced in 2015 and has become an annual tradition for BABOR fans around the world. With its elegant design and premium products, the BABOR advent calendar is the perfect way to indulge in a little self-care during the holiday season.
BABOR SPRING EGG
BABOR's Spring Egg is an annual limited edition beauty product that celebrates the arrival of spring. The product is a small, egg-shaped container filled with BABOR's signature ampoules, which are concentrated serum treatments for the skin. Each year, the Spring Egg features a new design, often inspired by nature and the season of renewal.
The Spring Egg has a rich history dating back to the 1980s, when BABOR first began creating limited edition products. Over the years, the Spring Egg has become a highly anticipated and sought-after item among beauty enthusiasts, with its unique design and high-quality formulations. The Spring Egg has also become a symbol of BABOR's commitment to innovation and sustainability, with the brand's focus on using natural and eco-friendly ingredients in its products.
BABOR CLEANSING
Any skincare routine begins with cleansing. Skin cleansing is one of the first steps to skin care and therefore, it should be performed properly. In fact, BABOR has dedicated an entire range of its skincare line just for this! Their CLEANSING Line uses the unique bi-phase cleansing method to thoroughly cleanse the skin in two successive steps. First, consists of the application of HY-Öl to remove make-up and impurities that have accumulated during the day. In the second step, the PHYTOACTIVE phase is applied to deep cleanse the skin and clarify the complexion.
BABOR ESSENTIAL CARE
The ESSENTIAL CARE range provide basic care for the skin. It is the perfect introduction to skincare for the most common skin types. These skin types include dry, oily, sensitive or combination skin. It supplies the skin with the most essential, fundamental active ingredients to leave the complexion looking fresh and well cared for.
BABOR Essential Care Collection
BABOR HSR LIFTING
Aging is a process that elicits mixed emotions. Some signs appear in subtlety, while others demand grave attention. For the most part, early monitoring with topical treatments is the first line of all-natural defence. HSR Lifting range is an anti-wrinkle and anti-aging line suitable for all skin types. It counteracts the most significant causes of the development of wrinkles: the reduction of volume and elasticity, the deceleration of the metabolism of the skin and the hardening of the dermal matrix.
BABOR SKINOVAGE  
The SKINOVAGE range is their premium skincare system that is individually customized by an epigenetic process to give the skin exactly what it wants. Epigenetics is a wide field of science that belongs to biotechnology. EpigenTech Power Peptide has been formulated as the key active ingredient in the BABOR SKINOVAGE range. The chosen active formulations, which always take account of the differing skin requirements, compensate for natural flaws in the skin and reactivates the mechanism of the skin itself. It is particularly excellent for tired skin in need of immediate regeneration. 
INTRIGUED…BUT WHERE DO I BUY THEM?
MEROSKIN TANJONG PAGAR @ International Plaza
MEROSKIN JOO CHIAT & BABOR'S 1st Experience Store in SG @ 201 Joo Chiat Road 
In Singapore, there are just a select few BABOR distributors.
MEROSKIN
 holds not only authentic items from BABOR, but also
facials
from BABOR. In essence, a facial is a multi-step skin treatment that is one of the easiest ways to look after your skin. Using custom-tailored skincare ingredients and special advanced treatment procedures, BABOR face treatments produce optimum performance. A facial cleanse, exfoliates, and nourishes the skin, promoting a clear and well-hydrated complexion. A
BABOR facial
is the perfect introduction for anyone who is keen to try out their products. Licensed aestheticians are specially trained in skin care and is knowledgeable and passionate about their work. They are qualified to provide advice on which products can better suit you and advise you to apply them correctly.
I HAVE ALLERGY CONCERNS!
When changing or introducing new products to your skincare regimen, it is normal to feel apprehensive, especially if you have sensitive skin. While many skin care business touts themselves as organic, not all can guarantee gentleness and efficacy. Even formulas derived solely from natural ingredients can cause hypersensitivity reactions when they are not formulated for optimal PH. In addition, not all-natural brands are tested by medical professionals during R&D and are fine-tuned to ensure that they are safe. Natural ingredients that are subjected to years of scientific study are used in BABOR products. At BABOR, a team of dermatologists, biochemists, and physicians ensure that all products can deliver effective results with high skin tolerance.
MEROSKIN ONE STOP SOLUTION
At MEROSKIN, we offer the very best in skincare for our customers. Speak to our trained therapist today for a full assessment of your skin now or
click here
to shop for BABOR products today!
RELATED TOPICS